Laying Foundations Online: The B2C Journey of Roman Stone
What the Client Wanted
Roman Stone, while already well positioned in the B2B sector, expressed an interest in venturing into the B2C domain. To successfully do this, it was essential for them to develop a fresh brand identity from scratch. This branding was not only about aesthetics but also involved the creation of a comprehensive eCommerce platform.
The new eCommerce interface needed to offer users a swift and seamless purchasing experience. But Roman Stone's requirements went beyond the traditional eCommerce functionalities. A feature they requested was a built-in calculator to determine the slab coverage of a certain order. This tool would enable customers to effortlessly determine the number of individual slabs or slab packs they would need, simplifying the decision-making process and enhancing the overall user experience.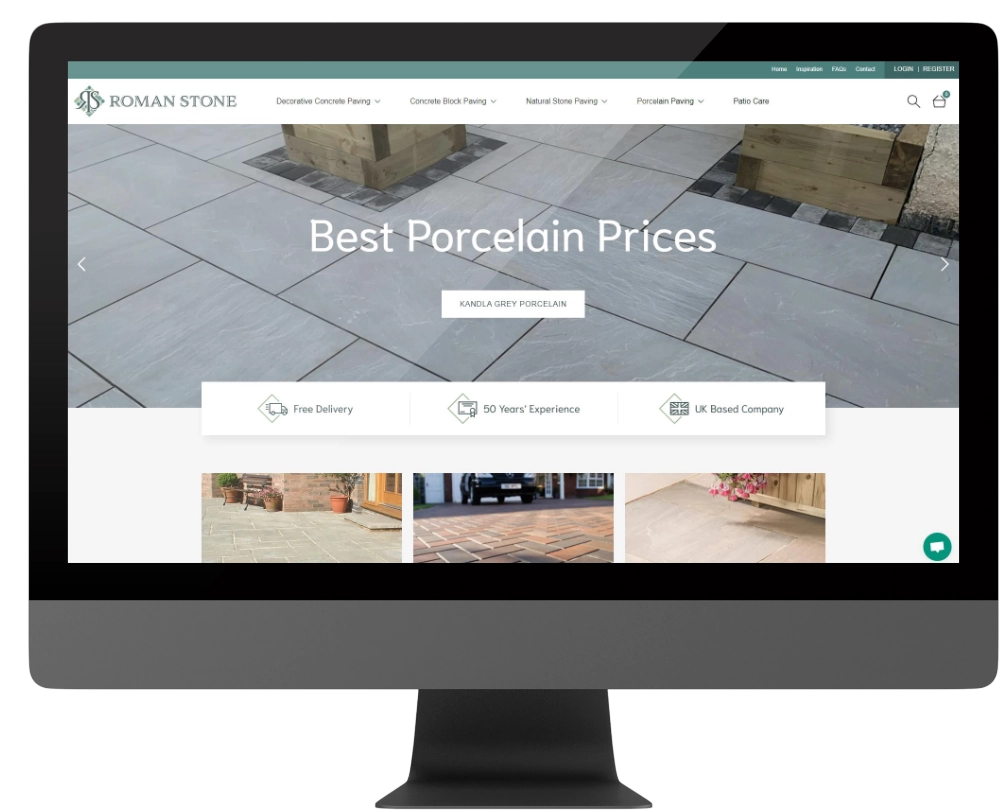 How We Solved It
Embarking on this project, our main aim was to translate Roman Stone's vision into a user friendly and effective digital experience. Our initial step involved working closely with the Roman Stone team, where we assisted in conceptualising and finalising the brand name, as well as creating the associated branding assets that would work with the target B2C audience. We then built on this by gathering the requirements for the website. To do this we visited the Roman Stone offices several times to ensure we have a good understanding of what was needed.
For the website, we chose the WooCommerce platform, known for its adaptability and robust features. Recognising the unique requirements of Roman Stone for a slab calculator, we crafted a custom theme tailored specifically for their needs. This allowed us the flexibility to seamlessly integrate the slab calculator feature, ensuring customers had an easy to use tool to aid in their purchasing decisions.
The end product is something we are very proud of and we continue to work with Roman Stone to improve the site and carry out our monthly site care audits to ensure the site is performing to its full potential.
Can we help you with a similar project? Get in touch
"*" indicates required fields