Okay, so you've spent the last few months building and developing your fancy new website. Now you've launched it, you need the visitors to start flocking. As I'm sure you're aware the best way to do this is to come up on Google's when people search for you.
Now getting to the top of Google for specific keywords can be a bit of black art and there are SEO experts out there who can help with this. But sometimes it just isn't necessary; if you have a well built website which features content that people are going to be interested in, you might pop to the top of Google without too much work. First things first though, we need to make sure Google knows you exist. So lets crack on and find out how to do this.
Does Google Know About You?
It might be that Google already knows you exist. The best way to check this is to type the below into Google:
site:YourWebsite.co.uk
Once you hit enter, Google will show you every single page it has indexed on the site URL. Obviously if it returns a big fat zero then it doesn't know you exist. Either way, it is still good practice to follow the below steps as they come with lots of other benefits.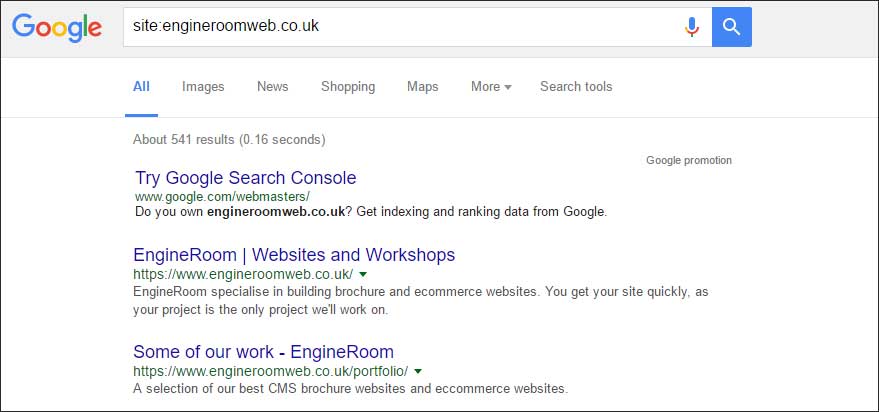 Get The Site Ready
Before you submit your site, make sure you are ready. If you don't have any content then it's tantamount to popping an empty notebook into the library and expecting people to check it out to read. If you don't have a blog and think you could produce enough content to fill one, then add one to the site. A blog is a great way of easily adding new content to the site which Google loves.
If a blog isn't really suitable then simply check all of your pages contain a nice lot of information. Not only for Google, but also for your visitors. Each of your pages should contain unique and useful content. It is also important to remember that Google can't look at images so text is key here.
Create and Submit a Sitemap
Now we have some decent content we can get on the blower to Google (not literally) and tell them about the site. The best way to do this is to submit a sitemap to Google.
A sitemap just that – a map of your site. At it's very simplest level it is a document containing information on each of the pages and how they come together hierarchically.
It is not much fun to build and keep up to date manually and for the sake of this blog post we are not going to detail how to do this. The great news is if you run your website on WordPress then you can install a plugin to do all of the heavy lifting for you. We recommend using a plugin such as YOAST. Once you have got your plugin installed and setup, we are then ready to submit the sitemap to Google. There are a few steps to doing this…
Google Webmaster Account
Chances are you have a Google account and if you don't then it is super simple to set one up. Either sign into your Google account or sign up for one on the below link to access your Google Webmaster account:
https://www.google.co.uk/webmasters 
Verify Your Site
Now that you are all logged into your account we have to prove to Google that we have authority over the site. Luckily the guys at YOAST have written a handy tutorial on doing just that:
https://kb.yoast.com/kb/how-to-connect-your-website-to-google-webmaster-tools/
Submit Your Sitemap
Right, now for the main event. Luckily for your sanity and my fingers this is the easy bit.
Login to Search Console and scroll down to the menu option "Crawl." Select the link "Sitemap."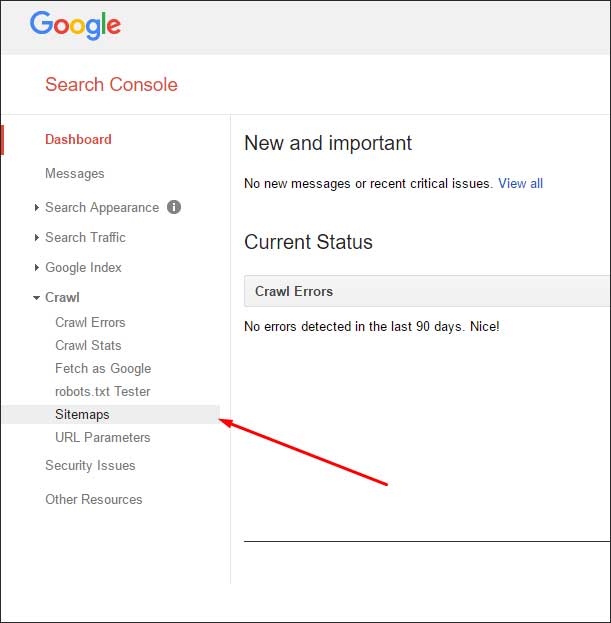 From the top right of the page, click on the button labelled, "Add/Text Sitemap."

All you need to do now is pop the web address to your sitemap, which you can get from your website plugin. Or, if you have created it yourself, you should know the URL anyway. It will be something similar to www.YourWebsite.co.uk/sitemap.xml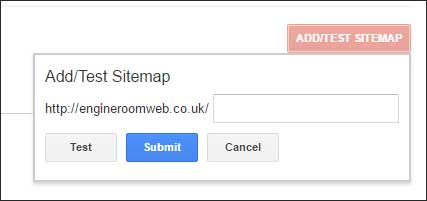 That's it! Google will then schedule in a time to take a look round the site and index all of the pages details within it. It can take a few days/weeks for your site to appear, but you can check nice and easily with the "site:YourWebsite.co.uk" trick we mentioned above.
What Else?
Although Google is now aware of your site a much more powerful way of climbing the rankings is allowing Google to find your pages organically via links on other sites to pages on your website. Don't just go out and add links all over the place though; Google is smart. Make sure they are links from complimentary websites that are of good quality. One link from the BBC is worth hundreds of links from low level link directories.