Your blog can serve many purposes; from marketing your business, to educating your customers (or potential customers) and can give a fantastic boost to your SEO (Search Engine Optimisation) efforts.  That being said, a badly written or out of date blog can have negative effects on your business. Below are a few of our top tips for writing a top blog that should benefit your business in lots of ways.
Remember your Target Audience
It's important to remember who you are writing for and to tailor your content to them. There's little point in using technical language in a blog written for non-technical readers. You will very quickly confuse them and consequently lose them as readers. Conversely, when writing a blog post for readers with prior knowledge of a subject try not to bore them with lengthly explanations. It can be a balancing act but well worth taking the time to pitch the writing at the right level.
Knowing your target audience can also help to inform your choices on exactly what to write about. Look at similar blogs in your field and research what they are writing about for a good idea of subjects.
Be the Expert and Research the Subject
There is little point in attempting to write a post on a subject you have no knowledge of. You are likely to make mistakes in what you say. Not only is this embarrassing for you but could also show your company in a negative light. Even if you are informed on a subject it always makes sense to do a little reading prior to writing an article. You might learn something new or realise that things have changed and avoid a potential error.
Write Content for Search
Blogs are particularly powerful when it comes to helping your site in the search results. This is mainly due to their relatively text heavy nature and the regular updates to the site content with each new post also helps.

Some bits to bear in mind to ensure your blog posts are assisting your SEO effort to the maximum are:
Keyword optimised titles and headings
Use of your targeted keywords in the first and last sentence (keyword density through the entire article should be not more than 2%)
Linking relevant key words/phrases to other posts
Ensuring the post is over 300 words or it will be penalised by search engines for being "thin" content
Use Formatting
Rather than presenting your reader with a wall of text use headings, bold text, bulleted/numbered list to break up the page and guide your users eye through the article.
Help the Reader with Media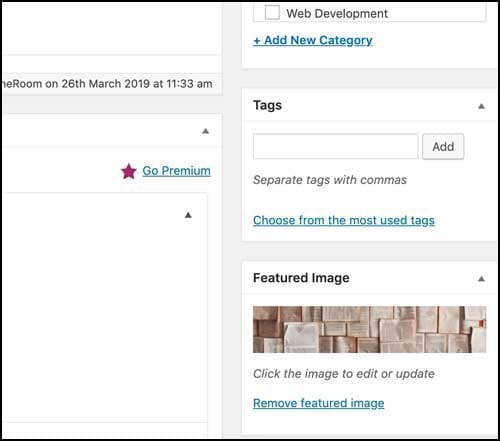 The first image to consider when writing a blog post in WordPress is the featured image. I would always assign an image to a post as it really helps
the readers eye to navigate the posts when viewing them in an archive list. If you're struggling for images then the below sites might help:
https://unsplash.com/
https://www.pexels.com/
Also remember the image doesn't always have to be specific, take a look at our blog posts and you'll see how we've tackled the problem.
It is also a good idea to intersperse your posts with relevant images. Don't over-egg it though otherwise you'll be forcing users to download too many images when viewing your post and if on a mobile data connection this could lose you readers. Another thing to remember along a similar theme is to always ensure you have downsized your images to a reasonable size. I've seen too many websites with over 20mb page sizes due to poorly re-sized images and it can not only negatively effect the user experience but also hit you hard in the SEO rankings. It's a simple one but definitely worth checking.
Check, check and check again
Read the post over yourself and then send it to a colleague/friend to double check. Sometimes it's hard to see the wood for the trees when you are reading something you've written yourself.
Conclusion
Follow the above tips and you will be on your way to writing an excellent blog. Just remember, you aren't writing the life and times of William Shakespeare so don't sweat it too much and get writing! If your site doesn't have a blog and is based in WordPress then these are relatively easy to add so if you need a hand with this then please just get in touch.